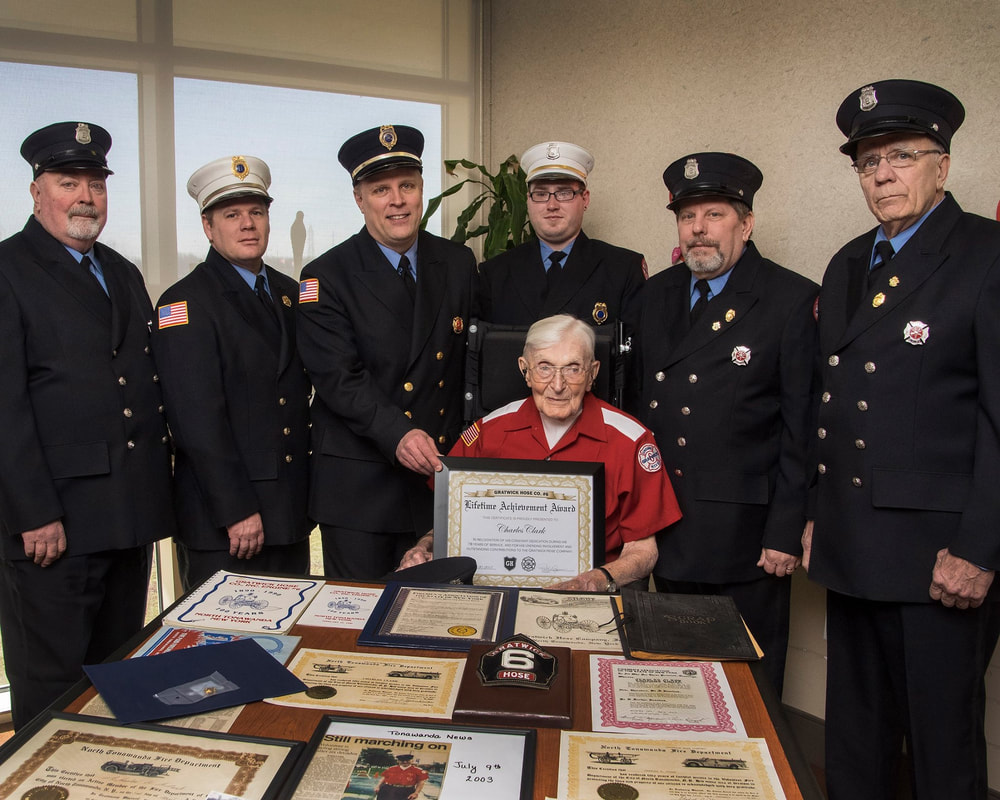 3/12/18
​Dear Members:

It is with great sadness that I announce the passing of our oldest living member, Charlie Clark (above). Charlie was 99 years old and was the #1 on our list of longest tenured members. Charlie was marching in parades well into his 80's and had great pride in and great love for Gratwick Hose. The funeral wake turnout for Charlie will be on Tuesday evening. Please meet at the hall at 6:45 and then we will proceed in body to Fretthold Funeral home where our chaplain will conduct a short service. (Class As required for those who have them). PLEASE make time to come and pay respects to our oldest living member on Tuesday night. The bar will be open afterwards and the complimentary drinks will be in honor of our fallen brother and dedicated member. Hope to see you on Tuesday.

Bob Brennan
President


November 2017
Dear Members:
An update in things at the hall:
The winners of the elections are David Miller for Benevolent Director at Large, ad Al Burdick as Lieutenant. Congratulations to both on their respective victories. The officers look forward to working with you both.
It was approved at last night's meeting to purchase a new electronic sign to replace the outdated and malfunctioning sign we currently have. The bid was awarded to Simplicity LED of Buffalo at a bid of $10,400.00. Watch for installation within the next few weeks !
The Company also approved a purchase of 12 new banquet tables at a cost of $2,400.00 from Lifetime tables.
Things are going extremely well and we are very, very busy. Many thanks to all who are helping with last minute set ups and take downs of the hall and pub.
Fish Fry is this Friday, November 10th. Please come down and lend a hand with this important fundraiser.
Chowder is this Saturday, November 11th. Come on down, it is very enjoyable and very rewarding.
The new bar top in the banquet hall will be installed in December. To that end, we will be tearing apart the old top and back cabinetry beginning in November 20th at 8 am. If you have time during the day, please come down and give the trustees a hand; it is a big project.
We will also be removing and replacing the bar sink and all the plumbing in the pub, beginning November 18th. If you have time on that date, please come down and give us a hand.
It was approved at the last meeting to award 4- $500 scholarships to graduating seniors this year. Many thanks to those who stepped forward to serve on the scholarship committee !!
Vern Zastrow would like to invite ALL MEMBERS and their significant others to a party and open bar on December 2nd in our pub from 7 pm-10 pm. Vern and Marge will be celebrating 75 years of marriage !!! Wow !!! Please make time to come down and lift a glass to Vern and Marge on this remarkable accomplishment. On behalf of Gratwick Hose; congratulations Vern and Marge and may God continue to bless your marriage !!
So, as you can see, we are extremely busy and continue to move this company forward. Please try to make time to come down and enjoy all that we have done and continue to do !!
My best,
Bob Brennan
President
Sept. 16, 2017

​Dear Members:

Wow !!! What a kickoff to the fish fry season. 382 dinners on our very first night of the season. Thanks to all who came out to help. Next fish fry is Friday Sept 29th. Come on down and enjoy the festive atmosphere and help us help Gratwick Hose.

There are 7 events currently booked in our banquet hall for the month of September !! Things are going great and Jim Pane and his crew are continuing to book events for the remainder of 2017 and beyond.

At the meeting on Monday, the floor passed the motion to remodel the bar in the banquet hall. New cabinets will be installed in the back of the bar and a brand new granite top will be installed. We will be doing all the work ourselves with the exception of the granite. That contract was awarded to Buffalo Marble and Granite.

We will also be starting a major repair project on the pub bar. The sinks and all the plumbing need to be replaced and redone. The new bar sink has arrived and again, we will be doing all the work ourselves to save the company money. As soon as that is complete, we will be looking to replace that bar top as well. Watch for more details.

We are open for every Bills games with a buffet served at halftime and drink specials. Come on down and support us and enjoy the crowd that is always present.

Legislator Rich Andres has decided to move his annual Oktoberfest party to Gratwick Hose this year. Rich has been instrumental in obtaining county funds for our use in the remodeling projects over the years and we welcome his patronage as well.

Also, if anyone would like to help this Saturday when we make a kettle of chowder as we participate with Platter's in a hurricane relief event, please be at the hall on Saturday beginning at 2:00. We will cook the chowder at the hall and then transport it to the location on NFB for the benefit.

Lastly, bartenders and waitresses are sorely needed for our events in the hall and for fish fry. It is good money and the tips are yours to keep. Please contact me if you or someone you know is interested.

That's all for now……..

Bob Brennan
President


Sept. 9th, 2017
​Dear Members:
A few quick news items:
The $75,000 grant from Senator Ortt seems to be moving along nicely. The state of New York is reviewing our final submission and we hope to receive a final approval notice shortly. Wayne Croll is beginning to receive bids from several roofing companies and if final approval comes within the next few weeks, we could have the new roof installed before winter. If the approval is delayed, the trustees have agreed that it is best to wait until Spring given the fact that we are not experiencing any acute issues with the current roof.
The grant is a "reimbursable grant", meaning that we must first complete the project and pay for same before getting reimbursed. To that end, if any of our members would be interested in buying a bond issued by Gratwick Hose Inc. that pays 2% per annum, please let me know. These bonds will allow us to "float" the amount of the grant until the payment is received. They will be available in $5,000 increments and will be for a minimum 6 month period.
Our 501(c)3 application designating us a non-profit organization is also moving along and we hope to have the final paperwork ready for submission to the IRS by the end of this week. This will allow us to apply for and receive grants from various organizations in the area.
We had a very successful outside catering season, so many thanks to all those who helped.
Our first chowder was held this morning and help was good…..thank you to all who came to help. We sold out and turned many folks away as demand for our chowder has really begun to increase. Thanks to Jeremiah Keleher and Scott Wilson for chairing this important fundraiser.
Our first fish fry is this Friday (9/15) from 4:00-7:30. With 17 fish frys scheduled from now until Good Friday, I would like to try something different. If you could commit to a number of fish frys, we could coordinate our volunteer help much better. What we are trying to avoid is having an overabundance of help one week and people standing around with nothing to do, only to suffer through sparse help the following week. If you can commit to certain fish fry dates, we could utilize our volunteer resources much more efficiently; allowing some of our regulars to take the week off. I think everyone who works fish fry will agree that it is a very enjoyable evening and you get the benefit of a free dinner !! Please look at the calendar and let me know what weeks to which you can commit and I will begin to put a schedule together.
We are also looking for another waitress or two for fish fry, so please let me know if you know of someone who would be willing to work for us.
The bar committee is also looking to hire another bartender; again if you know of anyone, please advise.
Our regular company meeting will be this Monday (9/11) at 7:30 pm where will be holding a special moment of silence in remembrance of that terrible day in 2001 when we lost 343 of our fellow first responders as well as the civilians that died that day. The agenda will also include:
i. Voting on the remodeling project for the banquet bar
ii. Voting on the proposed by-law change concerning meeting dates during the summer months
iii. A review of upcoming projects and initiatives for the remainder of the year.
This is YOUR fire company. Please support it by becoming involved at meetings and events. We cannot do it without you !!
Bob Brennan
President
August 21, 2017

Dear Members:

Another successful outside catering season has wrapped up with the final picnic being held yesterday. By all accounts, it was a huge success again and we will wait for the final figures from Jim Lemke. Every business customer has vowed to return next year because of the positive experience they had with us this year. Thank you to all who came out to help us with this important set of events. Unfortunately, it was the same people who work fish fry, work chowder and are around for other events who ran the majority of the picnics. A note to supporting members……..you are required to amass 20 hours of work/meetings for the year in order to maintain your membership. There are quite a few of you who are not on pace to retain your status as a member given the lack of hours worked YTD. Please be assured we will reviewing all supporting members' contribution to The Company at year end and will be unyielding when it comes to those who don't fulfill their obligations.

Fish fry begins on Sept 15th, so we have a bit of a respite until then. Although, we have 7 events scheduled in our banquet hall for the month of September, so we will be busy with them. If you would like to bartend for weddings or special events in the hall, please respond to this e mail and let me know. A normal wedding pays $75.00 plus tips. Usually, it is a pretty good night financially if you are willing to bartend.

Also, we are looking for one or two more waitresses for fish fry. The waitresses work for tips only, but they do very well with the amount of tables assigned to them and the amount of dinners we are serving now.

Due to Labor Day, our meeting will be at 7:30 on 9/11. We will be voting on by law changes that evening that will affect our monthly meeting schedule. Also, I will be introducing a motion to finish the remodeling in the banquet hall by replacing the back bar and bar top, as both have become old, worn out and unsightly.

See you on the 11th.
Bob Brennan
​President
July 17, 2017

​"Gratwick Hose is amazing"

"You all should be very proud of your fire company"

"This is so professionally done"

"You people are the best"

"We could not run this event without Gratwick Hose"

"The grounds here are just beautiful and so well kept"

These are just a few of the comments that I heard from our over 800 guests on Sunday as we, as a company, once again pulled together to do what no other organization in the twin cities could do…..park, feed and provide drinks for over 800 people on our property at the NTHS multi class reunion. So I want to thank each and every one of you that came out to help at this wonderful event. Whether you were parking cars, flipping burgers, serving corn, driving our guests on golf carts or serving ice cream and soda pop, WE COULD NOT HAVE DONE IT WITHOUT YOU !!!. Special thanks to Jim Lemke for organizing and preparing food ahead of time for this huge event…..we couldn't do it without Jim !! Also, I want to thank everyone who came out on Saturday morning to help cut up the massive amount of fruit needed for yesterday. We made short work of a monumental task. THANK YOU !!

Our outside catering season continues this Saturday (7/22) with another picnic. DWC (Jim Lemke's employer) will be here from 12-5. Another quick note, Keith Stockburger will be leading the charge on Saturday as Jim Lemke will be leaving for a much deserved week long vacation and I will be tied up with responsibilities inside our hall with a big wedding. So, please come out and help Keith and the team as we are expecting over 200 guests.

So, on behalf of Jim and myself; thank you for your help on Sunday and we look forward to your help the rest of the summer.


Bob Brennan
President


July 7, 2017

Dear Members:

Well, we just received a call from the organizers of the huge class reunion picnic that will be held on July 16th at our pavilion. They guaranteed 720 people for the event. Last year they had an additional 130 "walk-ins". If this holds true this year, we will have over 850 people on property for the picnic that day !!!!!!! That will be a record number of people for the event. I'm sure I don't have to tell you that the help needed that day will be crucial. Spouses, children, friends and all comers will be welcome ! Do you know a boy scout or girl scout troop that might like to lend a hand? We only accept this event because we are confident we can get the help. We have jobs for everyone and any time you can give would be most appreciated.

Now would be a good time to look in the mirror and ask yourself why you are a member of Gratwick Hose. Are you a "MINO" (member in name only)? Out of 140 members, we only see 20 on a regular basis for events such as these. The same members are working fish fry, picnics, chowder etc. We need everyone on 7/16.

Hope to see you all there.

Thanks in advance for your help that day.


Bob Brennan
President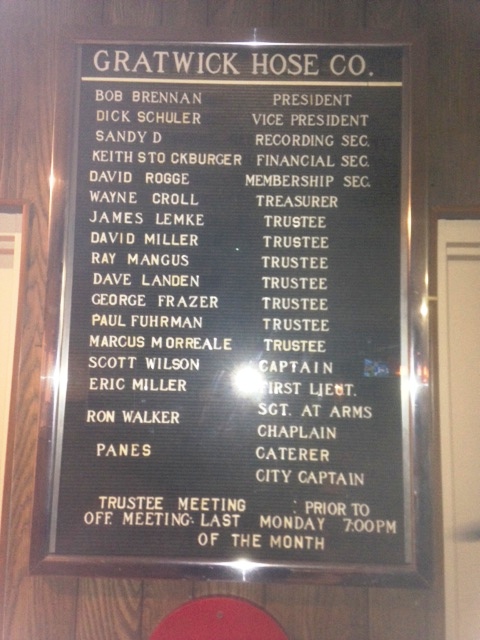 6/20/17
Dear Members:

As you know, Saturday was the annual Inspection Day Parade. We had a wonderful turnout with a total of 24 members in line, which was the highest number of any company in the Twin Cities !!! Our new Class A uniforms were the talk of the parade as we debuted them to the public. We all wore them with incredible pride ! To top things off, we were awarded the trophy for "best appearing" unit in the parade. The trophy, formerly known as the "Mayor's Trophy" was recently renamed as the "Joseph Belczak Memorial Trophy", named after our former brother firefighter and Chief who recently passed away. So the first year the trophy bears the name of our former leader, it is awarded to Gratwick Hose !!! Congratulations to all who marched !

I also want to take a moment to thank Jeremiah Keleher who worked tirelessly to make sure everything was perfect for Parade Day. Without him, we never would have been able to win this award.

I also want to thank everyone who marched in 90 degree heat yesterday. I know there were family obligations, work and children's sporting events but your presence yesterday made a huge difference !! Case in point; Senator Robert Ortt was in attendance at the parade. Senator Ortt just secured a $75,000.00 grant for Gratwick Hose to help us replace our roof. It was important for him to see that we are a vibrant and viable fire company, so that he can continue to help us whenever possible. So before you say, "it was just a parade", know that every time we are in public eye we must portray a professional appearance and we did it yesterday in spades !!!!
​
Below is a photo of myself and Chief Sikora with the trophy. I apologize for being out of uniform, but after marching in 90+ degree heat, I had to reduce my body temperature as quickly as possible. I will be sending more pics of us in line and marching as I get them from Mayor Pappas's assistant


Bob Brennan
President

PS Please mark July 16th on your calendar. 800 people on GH property for the huge NT High School Reunion. We need you !!!!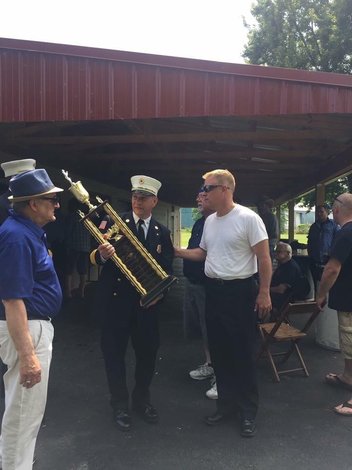 6/5/17
​
Dear Members:
A few quick items:
For those of you who did not attend the worker appreciation dinner on Saturday evening, you missed a great dinner and wonderful fellowship. We celebrated our successes as we looked back on all the projects and improvements we have made to the building over the last 5 years. It is truly remarkable !! Thank you to all who helped in any way ! I also want to share some exciting news........last Tuesday we paid off the remaining balance on our 20 year mortgage. This mortgage was taken in 2012 to fix a huge plumbing problem and to begin remodeling of the facility. It was due to be paid off in 2032 !! We paid it off 15 years early and saved The Company over $50,000 in interest !!! With all the projects, buying class A uniforms and all that we spent money on, we were still able to pay off our note early. Attached, you will find a picture of the mortgage burning ceremony we held Saturdaynight.
"Cruise Nights" have begun at the hall on Fridaynights. We operate a concession stand in the field house selling hot dogs, hamburgers, pop and beer. If you have a free Friday night and can work the booth for just 2 hours (5-7), please let me know. That way the same people do not have to work the booth every single Friday.
I have been notified by The Niagara County Legislature that we are the recipient of a $3,600.00 grant from the casino revenue to maintain and repair our field house roof. Thank you to Legislatures Rich Andres Jr. and Randy Bradt for their assistance in getting us these funds.
I have also been notified by Senator Robert Ortt's office that we are the recipient of a State "SAM" grant. The exact grant amount is not known at this time but it is definitely in excess of $50,000.00 !! We will be using these funds to replace the main roof overt the banquet hall. Thank you Senator Ortt !!
Our outside catering season kicks off with a bang on July 16th, with the large high school reunion picnic. We are expecting over 750 again this year, so please mark your calendars as we need all the help we can get on that day. I will be sending the remainder of the schedule in subsequent e mails.
As you can see, we have been extremely busy and Gratwick Hose is alive and thriving. Please try to come down and share in our success and contribute to your fire company. We have a proud history and we must continue the tradition of service to our community.
My Best,
Bob Brennan
President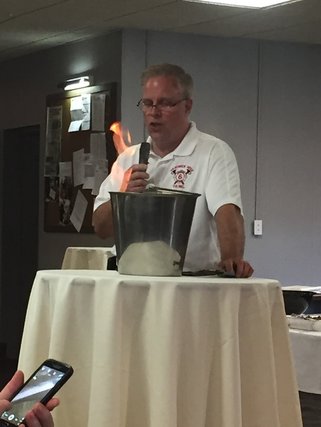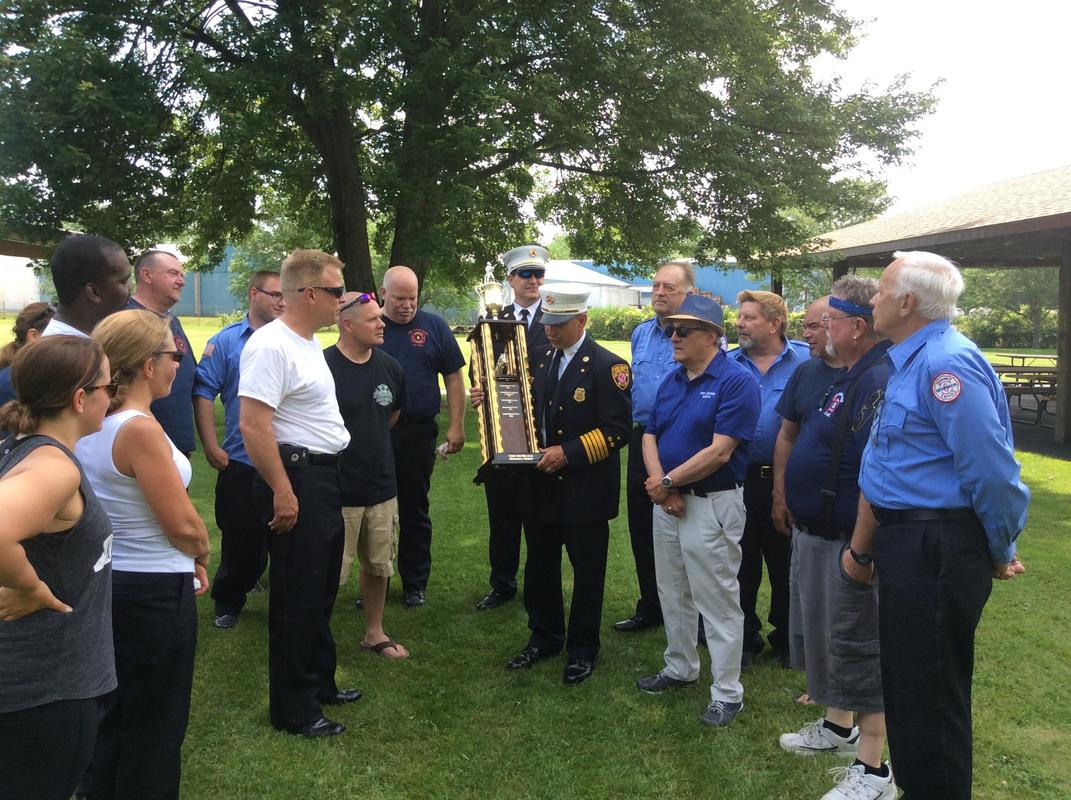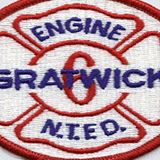 Company Overview
Our company was organized in January 1890 after a "windstorm blew the chimmney from the church". A Constitution and By-Laws were adopted the following month. In 1892 we were recognized as part of the North Tonawanda Fire Dept. That same year funding was secured for property and building of our first "Hose House" on Felton St where we remained until 1962.
---